According to Lonely Planet, Seville is ranked as the number one city to visit in 2018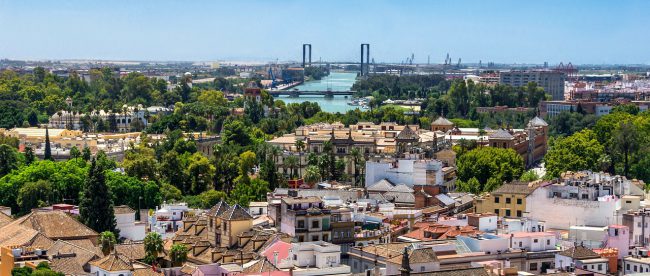 Seville has become the second most visited city in the world, receiving 15,48% more foreign tourists than last year.
It is the perfect destination for those who want to experience its culture and history from its streets to its accommodations. Offering tourists the opportunity to stay in several old-style remodeled hotels to enjoy their visit as much as possible.
Seville is the capital of Andalusia, a Spanish city abundant in history, great food, Gothic architecture and sunny days. These are some of the millions of reasons why it has been described by the New York Times as "Vibrant and seductive Seville, easy for the wallet".
When people come to visit it, one of the most important things that should be kept in mind is choosing a hotel in Seville in the city center. That is because a hotel in Seville near the Giralda and Cathedral is perfectly situated as it is close to almost everything that is considered a must-see spot, from monuments to charming quarters. Also, the city center is a pedestrian part of the town, which makes walking and wandering around the city even more enjoyable, providing beautiful views for creating new memories.
As ABC, a Spanish newspaper published, during 2017 the number of tourists that have chosen to stay in a hotel during their visit to Seville was over 3,3 million. That is because there are a lot of charming hotels in Seville that enchant their guests from the first second. Some of them, are traditional townhouses that have been remodeled and become hotels for the enjoyment of tourists.
These types of hotels make its guest experience the history and Andalusian culture first-hand. Thanks to the architecture of these hotels, full of Moorish influences, bright colours and stone made fountains; visitors can relax and rest without leaving the magical atmosphere that surrounds the city.
In addition to that, it is interesting to say that Seville is a city whose hotels are suited for every type of visitor. From big familiar international hotel chains to small quiet and stylish boutique hotels, perfect for romantic getaways. Sometimes, people with pets cannot find anybody to take care of them while they are away, but finding a pet friendly hotel in Seville is no longer a problem because this city offers multiple pet friendly hotels that will welcome both human and animal guests with open arms.
A hotel that displays every single one of the characteristics that have been mentioned, is a small and charming hotel in the center of Seville called Hotel Rey Moro. This boutique hotel has been offering its best services to tourist all around the word for years.