Seville Having History As Its Landmark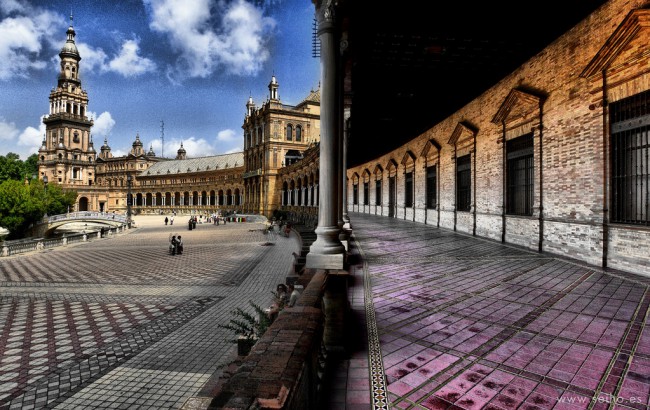 Three years ago the "traveler's bible" Lonely Planet collaborated with the British artist Adrian Brannan on a photography exhibition in London called "Every City Tells A Story". Only with its name the exhibition triggered the impulsion of many people who were holding deep a travelling spirit.
I bet you must have had the reveries of strolling on the quaint Roman streets, getting lost in the extravagance of Manhattan's night, trying out the savory sushi in Tokyo or having a cafe au lait at café de flore in Paris. The reality may drag you back to the office's desk, but I know your heart has flown towards the Tour Eiffel, Colosseum, Tokyo Tower and the Empire State Building… Every city has a story and the story is told through its landmarks.

Comparing with the above, Seville is a small but exquisite city featuring unique Spanish culture and history. In its old town, there are 3 UNESCO world heritage sites: the Cathedral and its bell tower Giralda is the 3rd largest Cathedral in the world; the mosaic-like ceiling of royal palace Alcázar uncovers the trace left by the Moorish kingdom; General Archive of Indies stores the records of Spanish golden age of discovery. Not even mentioning the Tower of Gold, bullring of Maestranza, Royal Tobacco Factory, etc. From the early Roman dominance to the Moorish era until the Castilian rule and the grand age of navigation, Seville's amazing landmarks compose a silent narration of the city and make the hotels that have rooms with city views in Seville the favorite of over a million visitors who come here every year.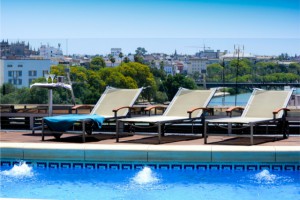 If you have the plan of visiting Seville recently, I would recommend you to stay at Hotel Ribera de Triana, a 4 star luxury hotel in the lovely district Triana of Seville. This exclusive hotel in Seville has a perfect location being 10 min on foot from the city center and sitting right next to the river of Guadalquivir. Accommodation with buffet breakfast, outdoor swimming pool, restaurant of Mediterranean flavors, spa center with Jacuzzi and Turkish bath, organization of wedding, events and celebrations, special offers for romantic escape, pet-friendly policies… except all the services and facilities mentioned above, this hotel also takes advantage of its location and offers a rooftop terrace and plenty of rooms with amazing city and river view of Seville from where you can observe the beauty of Seville's landmarks day and night. Sipping your personalized drink and having the panoramic view of this ancient city under your eyes, here your reveries will come true.